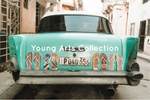 Young Arts Collection
Our YoungArts Collection flip flops are wearable art pieces designed by our talented YoungArts artists that feature brilliant, colorful designs and are produced in limited quantities. At Samba Sol our flip flops aren't just sandals, they're eco-friendly and sustainable fashion for your feet. So go ahead, put a little Samba in your Sol.


HIGH QUALITY
Not all flip flops are created equal. At Samba Sol we use eco-friendly renewable raw materials without chemical processing.


ECO-FRIENDLY
Our beautiful, long-lasting and vibrant prints are transferred using the newest non-toxic transfer technology. Samba Sols are made of 100% recyclable rubber for a comfortable, durable sandal.


SUSTAINABLE

Samba Sols are made with recyclable Brazilian rubber, so each purchase helps protect the Amazonian rainforest!
DESIGNED IN MIAMI, MADE WITH ❤️ IN BRAZIL 🇧🇷